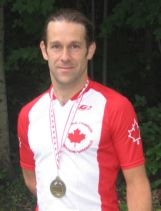 Hello fellow cyclist!
My name is Michel Brazeau and I am from Quebec, Canada. By trade I am a computer engineer, who also enjoys cycling and physical activity as a means to surpass oneself.
I picked up cycling in my early 30's and joined the local Beaconsfield Cycling Club to get back in shape after few years of hibernation.
After a couple years of club riding, I decided to try racing. Then a new world opened up. Racing demands a higher level of conditioning with more intense and structured training. So I started reading many books, experimenting with different training methods and personal trainers.
In the past 10 years, I haved raced more than 300 master and senior races, won masters provincial/state time trials in 2004, 2006, 2008, 2009, masters TT national championships in 2006, age-group national duathlon championships in 2008, and had many top 5 finishes in time trials, team time trials, road races, criteriums, and stage races.
Whether you have specific objectives or simply want to improve your fitness for you weekend rides, I created this site to share my cycling experience with others, and to give back to others what others have taught me in my cycling adventures.
Nothing can replace a good coach and personal trainer, but with experience, you will find that ultimately, no one will know your body better than yourself. The basis of any modern training program is based on periodization. FreeTrainingPlan.com will get you started with a training plan divided into various macro and micro periods which will build your fitness towards a peak performance period.
If you have any comments please feel from to send me an email.
Enjoy the journey!
Michel